Freedom S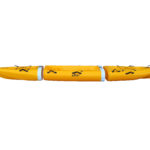 We improved our Freedom S model in different ways for easier carrying, storage, and paddling.
| | | |
| --- | --- | --- |
| Length | 11'7" | 3.53 m |
| Width | 26" | 65 cm |
| Weight | 64.0 lb | 29.0 kg |
| Capacity | 260 lb | 118 kg |
Improvement from Freedom 2015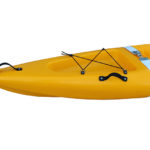 Added bungee cord on bow and stern sections to hold and secure gear.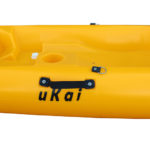 Added handles on the side of each section for easier transportation, so carrying bags are not needed.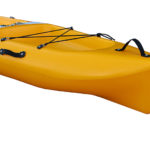 Engineering designed tracking system at the bottom of the stern section for easier paddling.
First connect the center piece to the bow section. Bring the center piece into the groove of the fastening band of the bow, ensuring the edges are aligned for a secure fit. Buckle it down when assembled.
To attach the bow, tuck the section under the buckle. Make sure the two sections are securely together before attachment, in order to ensure a smooth fit.
Next, attach the seat. Clip the hooks onto both sides.
And now you are ready to hit the water!
Simple, easy, fun – uKai.
Detach the seat first by releasing the hooks on both sides.
Unbuckle the stern section from the center piece.
Reach across the hull and pull up for an easy separation.
Then unbuckle the bow section. Hold the handle on the center piece and lift it up to separate the joint
Now that you have disassembled your uKai "Freedom S", you can easily transport and store your boat. The disassembled and compartmentalized uKai Recreational Kayak can be easily stored in the provided carrying bags, transported inside vehicles, and stored in small, convenient spaces.